Goblin's Web Page
Domestic Long Hair (medium coat) : : Female (spayed) : : Young : : Medium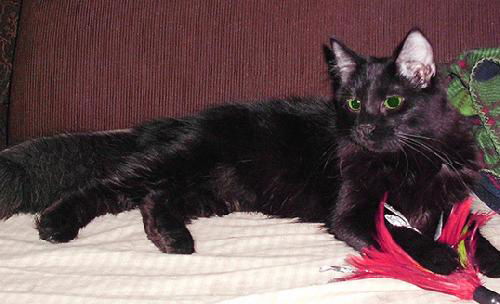 I would love you more than you can imagine.
Please sponsor me!
About Goblin

Status: Available for Sponsorship
Species: Cat
Rescue ID: 11-0147
General Color: Black (Mostly)
Color: little white on tummy & in tail
Current Size: 10 Pounds
Current Age: 11 Years 8 Months (best estimate)

Declawed: No
Housetrained: Yes
Hi, I'm Goblin. When I was found my hair kind of stuck out in all directions & I gobbled up bunches of food. Now I have beautiful, shiny, black hair with a little white "smile" on my tummy. My favorite place is in a lap, at least when I'm not busy playing with toys, other kitties or on the cat "tree". Sometimes I like to talk to people with a cute, soft, little "meow".
If you are looking for a sweet, playful little purr-baby, you need to come meet me.
More about Goblin
Good with Cats
,
Good with Kids